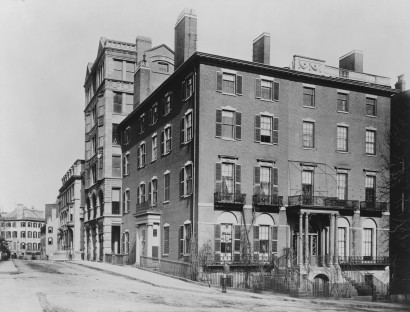 Boston, MA ~ 1804
Situated directly across from the golden dome of the Massachusetts State House, this historic Beacon Hill structure yielded thick and heavy eastern white pine interior sheathing boards.
Constructed by a Mr. Thomas Coffin Amory in 1804, the Amory-Ticknor House has since laid claim to a bevy of historically significant residents. The house rests near the very top of Beacon Hill, on the corner of Beacon and Park Streets, with an unparalleled view of the Boston Common.
Designed by famed Boston architect Charles Bulfinch, the five-story building was originally in the Federal style, but has since been altered by owners and tenants to include Queen Anne-inspired accessories and more contemporary commercial additions. The
most recognizable present tenants are the renowned No. 9 Park restaurant and a Fox News studio.
The building's most famous occupants include early American politicians Samuel Dexter and Christopher Gore, as well as Harrison Otis, Fisher Ames, George Ticknor, and John Jeffries. The Marquis de Lafayette, of American Revolution fame, stayed in the Amory-Ticknor House in 1824, where he hosted social events and lived for a brief period.
The 'Ticknor' portion of the house's named is derived from early educator Anna Ticknor's Society to Encourage Studies at Home, which operated from the premises. The Society to Encourage Studies at Home was the United States' first correspondence school and encouraged women to educate themselves from home. The society was dissolved after Anna's death in 1897.
Amory had divided the mansion into separate properties shortly after construction. Longleaf Lumber salvaged two truckloads of boards used to support the plastered walls from the building's 9 Park Street portion. As the rooms were being renovated, workers carefully removed the white pine, all of which was varied thickness and width. Many of the thicker, older boards had been hand-planed, and some were a full 12/4″.
Our Photos of the Reclamation Process