Manchester, NH ~ 1891

Built in 1889, the Amoskeag Manufacturing Company's Mill No. 11 was, at one point, the largest cotton manufacturing plant in the world.


The 1891 Mill No. 12 Annex, attached via second-story bridge to Mill No. 11, runs along I-293 in Manchester, New Hampshire.  The massive structure was impressively overbuilt with huge Heart Pine timbers, providing far more structural integrity than necessary.  This type of overbuilding, with incredibly strong and dense Heart Pine framework, was common in post-Civil War industrial structures.

Referred to as the Cloth Room in a number of documents, Longleaf Lumber has salvaged thousands of feet of the original maple flooring from Mill No. 12 Annex, along with hundreds of prime old growth Heart Pine beams, many with 20 years of growth per inch.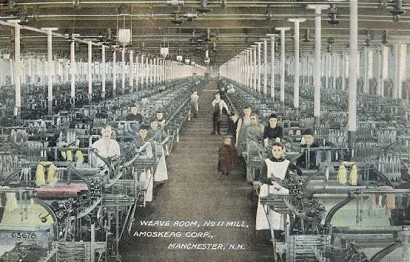 Mill No. 12 Annex was built shortly after the Amoskeag Company's legendary Mill No. 11, which, at 900 feet long and 103 feet wide, contained 4,000 power looms, making it the largest cotton manufacturing plant in the world.  Woven cotton cloth was delivered to the No. 12 annex, where it was inspected, sorted, treated, finished, and packaged for shipping.  In this room, hundreds - if not thousands - of laborers worked long, hard, and hazardous days for low pay.  Photographer Lewis Hine documented the working conditions and laborers at the Amoskeag Company in a May 1909 visit.

In the early 20th century, years of deplorable working conditions, child labor, and poor treatment of employees finally took their toll on the Amoskeag Manufacturing Company.  These factors, coupled with changing economies and a reduced dependence on water power, forced the company into bankruptcy and shuttered manufacturing operations.

The Amoskeag Company's mill buildings have since been converted into apartments and institutional working space, or suffered the wrecking ball.  The company's legacy is memorialized in remaining sentinel Merrimack River mill buildings, Lewis Hine's photographs, and now in flooring and paneling milled from the very floorboards and beams upon which generations of millworkers labored.

 Our photographs of the reclamation process: