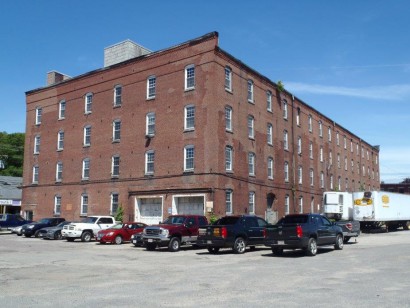 Melrose, MA ~ 1900
The Boston Rubber Shoe Company once churned tens of thousands of shoes per day out of its Melrose and Malden factories. Today, the dilapidated buildings are being renovated and repurposed for housing. During the reconstruction project, Longleaf was lucky to reclaim some of the finest Heart Pine beams we've sawn since the 1990s.
Located just seven miles north of Boston, the sleepy town of Melrose was incorporated in 1850 and swiftly thereafter underwent a transformation from an agrarian to industrial community. Now, over 100 years later, the town's industrial buildings are undergoing their own metamorphosis: From historic Boston Rubber Shoe Company factory buildings into residential condominiums.
Called Alta Stone Place, this Melrose development is a multi-million dollar residential project by Wood Partners, an Atlanta-based real estate developer and management company. Beginning with factory complex purchases in 2011, the new residential project has been carried out in two phases. During the first phase, one building (which received landmark status) was renovated alongside three new structures. These four now-complete buildings provide 212 new condo units within walking distance of the Orange Line's Oak Grove Station. The second phase of the project, which includes the demolition of 37 Washington Street, another Boston Rubber Shoe Company building, will add 88 more units.
The history of rubber in shoes is fascinating. Thanks to Charles Goodyear, an American self-taught chemist who, in 1839, accidentally discovered the process of vulcanization in Springfield, Massachusetts, rubber was made more durable and elastic. This discovery opened rubber up to various commercial uses, including rubber shoes, which would not soften in the heat or harden in the cold.
Historical accounts of shoe manufacturing in Malden and Melrose, Massachusetts are murky. Several shoe manufacturing companies came into being in the 1800s – perhaps more than one from a member of the Converse family. One was certainly the Boston Rubber Shoe Company, owned by Elisha S. Converse. It would become one of the world's biggest producers of fine rubber boots, shoes, and overshoes, and the well-known Converse name would eventually become synonymous with high-top basketball shoes and player Chuck Taylor.

At its start, the Boston Rubber Shoe Company used the newly discovered vulcanized rubber to make just a few kinds of footwear. Their first factory, in nearby Malden, grew to employ 1,500 workers producing 20,000 pairs of shoes each day. Even this tremendous output, however, could not keep up with demand, so a second factory was built in 1883 on Washington Street in Melrose. This second site would employ 1,200 workers turning out an additional 12,000 pairs of shoes each day. Additional buildings were added to the mill complex in the 1890s, including 37 Washington Street. By 1893, the factories were producing 40,000 pairs of shoes each day in over 1,500 styles, shapes, and widths. In one nine-year period, the company produced nearly twelve million pairs of their most popular "Storm Slipper". Shoes from Malden and Melrose were sold all over the country and around the world.
The Boston Rubber Shoe Company became the largest employer in Melrose and was largely responsible for the transformation of the city from a farming community to one with an industrial-residential character, as farms were sold and developed into housing lots for factory workers. Residents of Melrose and surrounding towns were employed at the factory until the plant was finally closed, and operations returned to Malden, in 1929.
Measuring 195 feet long by 86 feet deep, and featuring a small accessory structure attached to the north face, the 37 Washington Street building at the Boston Rubber Shoe Company stood on a lot of just over two and one-quarter acres and was four stories of classic wood beam and brick façade construction. The ground floor featured a number of truck-height loading docks. Windows in the building were multi-paned and plentiful, sills were a neat granite, and the roof was tar and gravel. A majority of the beams in the building were slow-growth longleaf pine, also known as Heart Pine.
The demolition contractor did a fantastic job removing the timbers from this 67,000 square foot project with very little breakage. The quality of the wood reclaimed may be the finest we have seen since the 1990s. The percentage of knot-free, tight-grained wide plank material is a true sawyer's delight.
Our photographs of the reclamation process