In 2016, NS Builders was hired to renovate a condominium in Boston's Seaport District. Part of this undertaking involved building a challenging reclaimed hickory wood and steel frame staircase. To accommodate the homeowners' desire for an industrial aesthetic, an imposing steel staircase was designed by Nick Schiffer (owner of NS Builders in Boston, MA) and a subcontracted steel fabricator. Originally, the homeowners planned to use new, pre-finished hickory flooring as tread material. That changed, however, when Schiffer suggested reclaimed hickory as an alternative. Excited by the idea, Schiffer and the homeowners turned to Longleaf Lumber to check antique hickory availability.
After stock was confirmed and their order was placed, our sawyers got busy milling custom reclaimed hickory treads. As with most reclaimed wood sawing, the first steps of the process involve removing nails from salvaged barn beams. The beams are scanned by hand and each nail is removed carefully, so as to limit damage to the surrounding wood. If you've ever worked with old-growth hickory, you know it's hard. De-nailing it is no exception. Proper hickory de-nailing technique is on display in the photos below.
Once the beams have been cleared of metal, they head to the bandmill, where they are cut into roughsawn boards that are slightly thicker than the finished product. In the image below, a small antique hickory barn beam is custom sawn in one of our outdoor saw sheds.
After sawing, the roughsawn boards are ready to head to the kiln, where they will be dried to the proper moisture content before more refined milling. For small, custom jobs, chalk pencil inventory marking (seen below) is extremely important to keep track of each piece. No one wants to lose an important piece of hickory and start over!

Once dry, the roughsawn hickory is sent inside to produce surfaced material that can be glued up for treads. When working with old-growth hickory, treads made up of smaller pieces are more stable than wide plank glue-ups. Because hickory is such a powerful wood, wider planks tend to move more than narrower pieces after glue-up and installation. Below, John prepares hickory for joining on the planer and the jointer.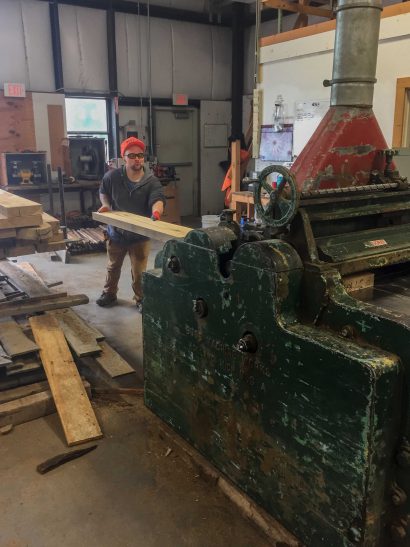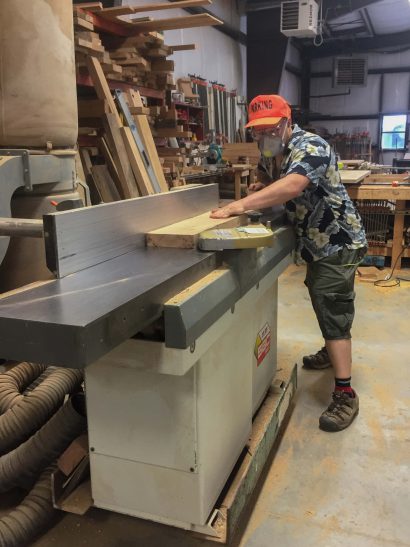 After gluing the hickory together, we leave the rough treads to dry before finishing them to the precise dimensions demanded by our customer. In this particular case, NS Builders required a hefty 8/4″ thickness. When the final two-inch thick treads were ready, we shipped them to the NS Builders job site for installation.
Schiffer's project involved 'floating' our reclaimed hickory treads within a steel stair frame. After the NS team carried the steel frame up ten flights of stairs (the condo is located in a former factory), they attached it to
the floor and wall and prepared for tread installation. Each tread was fit into place, given a final sanding, and then finished in place with two-part Arboritec Miracle Oil.
The final product is outstanding and puts the character of the antique hickory front-and-center. Plugs that were used to fill loose knots and keys to keep checking to tolerable levels were intentionally placed on the surface, and the natural color variations of old-growth hickory are accentuated by the Arboritec oil finish. Without a doubt, these repurposed hickory treads and steel frame are tough enough to withstand decades of regular use.
Images of the staircase courtesy Nick Schiffer of NS Builders and Todd Wilson Images.