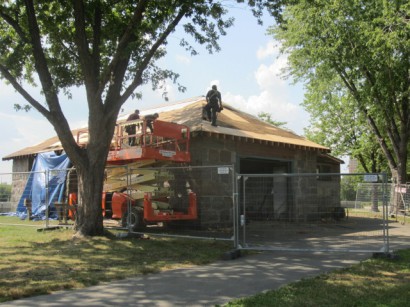 After years of neglect, Cambridge's historic Magazine Beach Powder Magazine is seeing a well-deserved makeover.  Thanks to the commitment of the renovation team, this iconic Charles River structure is using reclaimed Heart Pine to replace the rafter tails beneath the failing roof.
Originally constructed in 1818, the Magazine is the oldest standing building in the Charles River Basin.  First built to store gunpowder for public and private use, the walls were solid granite blocks and the roof wooden, slate, and specially-arched brick.  The original roof has long since been replaced, as the 1892 photograph at right shows, but the walls have stood the test of time.  In 1818, the Powder Magazine was located on what was known as Captain's Island as a protective measure.  As Cambridge's population exploded in the 19th and 20th centuries, the Charles River and its tidal marshes were filled in to make room for development.  Eventually, the island was incorporated into the expanded Cambridgeport neighborhood.
The Powder Magazine was next converted into a bath house for swimmers using the beach at Magazine Beach Park.  After swimming in the Charles River ceased in 1949 (we're not kidding, people did it), the bath house was abandoned and fell into disrepair.
Magazine Beach & the Bath house
Today, thanks to the tireless advocacy of the Cambridgeport Neighborhood Association (CNA), the building is finally seeing its fair share of attention.  With money from local, state, and private sources, the structure is being renovated to feature a new roof, windows, and doors, along with a complete masonry repointing and new exterior lighting.
After ordering new-sawn pressure-treated rafter tails for the repair project, contractors noticed the wood twisting and checking to the point of unusability.  CNA Magazine Beach committee chair Cathie Zusy reached out to Longleaf for help solving the problem.  We sawed tails from Heart Pine salvaged at the Crocker Manufacturing building demolition site in Holyoke, MA.  At an age of approximately 200-400 years old and steeped in New England history, this reclaimed wood is a perfect match for the Powder Magazine historic renovation project.
As a locally-owned Cambridge business and believer in the real utility and democracy of public spaces, we were happy to provide the beams for the project.  Here's to everyone that made this project possible – we'll see you at the next Magazine Beach barbecue!
Pictures of our delivery to the Magazine Beach Powder magazine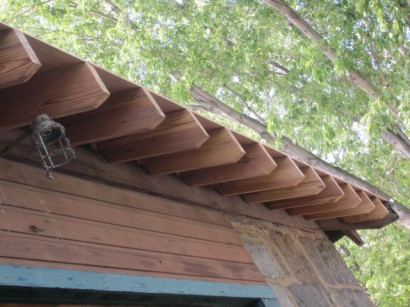 Photographs of the Powder House courtesy the CNA's Cathie Zusy, the Cambridge Public Library, and the Cambridge Historical Commission.
An excellent history of this structure is available here.