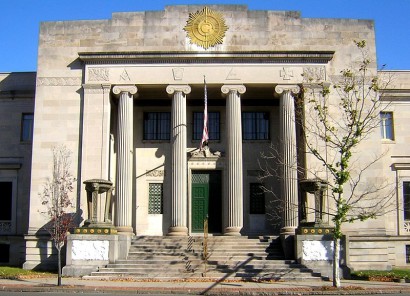 Quincy, MA ~ 1926
Designed by well-known Boston architects J. Williams Beal & Sons, construction of this Masonic temple was completed in 1926.
Placed on the National Register of Historic Places in 1989, this three-story structure featured oak paneling, a theater/ballroom, library, and three individual lodge rooms – each accompanied by an ornate anteroom.  Massive Ionic order columns dominate the facade of the building, making it an unmistakable presence in downtown Quincy.
In September of 2013, a repair crew sparked a four-alarm fire that destroyed most of the historic building.  Firefighters from Quincy and Boston were called to extinguish the blaze.  Fortunately, the front façade remains intact and will be preserved as the damaged rear portion of the building is reconstructed.  Lost in the fire were decades of local mason records, including historic photographs.
We've salvaged a number of high-quality Heart Pine and fir floor joists from the temple, as well as assorted structural timbers.  Although undamaged, the woods were reclaimed from areas of the building that will need rebuilding due to severe structural and water damage.  While milling the fir joists, Longleaf discovered stamps indicating that the wood was originally purchased from George McQuesten's legendary Geo. McQuesten Lumber company, a large East Boston-based importer and distributer of home and shipbuilding timber.