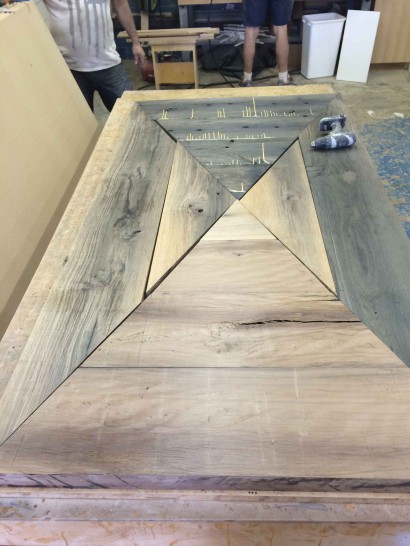 It takes an experienced craftsman to build with live oak lumber.  Famous for incredible density, a tendency to move under all conditions, and truly terrifying weight, live oak is a woodworker's beast of burden.

At Malden's Mattos Construction Company, their carpenters were up to the task.  After their on-the-fly purchase of a skid of 8/4″ live oak slabs at our Cambridge warehouse, MattosCo drew up some plans for a heavy-duty dining table crafted completely from this gorgeous reclaimed wood.
Longleaf Lumber salvaged hundreds of live oak pieces from the muck of the old Charlestown Navy Yard, where specially-curved live oak timbers were originally inventoried in holding ponds as parts to repair the U.S.S. Constitution and sister ships.  The wood – the densest in North America – was likely harvested on St. Simon's Island in Georgia, where the original order of live oak was cut for Old Ironsides in the 1790s.  A slow-growing tree, the live oak cut for this U.S. shipbuilding program was likely hundreds of years old when felled, making the pieces recovered from Battery Wharf approximately five hundred years old.
A perfectly arced live oak timber at our berwick mill
The timbers were roughsawn by our sawyers in Berwick before being sent down to our Cambridge warehouse.  Sawing the live oak on a bandmill is quite the task, given the strange curves and incredible density of the wood.
MattosCo's team brought the roughsawn slabs to their tablesaw and planer, removing our bandsaw kerf marks and exposing the incredible twists, curls, and contortions in the live oak's grain.  Then, after chopping the pieces to length for application in the base and top, glued the material into place.
MattosCo's final product is a gorgeous, thoughtful use of this reclaimed wood.  As one of the few mills in the world that saws old-growth live oak lumber, we know how challenging (and sometimes painful) working with live oak can be, and we're glad to see craftsmen in Boston ready to make use of this historic lot.  When coated with an oil-based finish, the figure in the grain of live oak takes on a deep, rich character that makes the extra time spent wielding the sander worthwhile.
MattosCo's Table Construction Photos