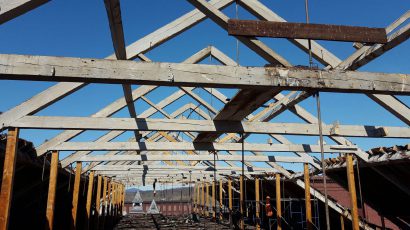 Reclaimed wood comes in many shapes and sizes, and the nomenclature used to describe it can be downright confusing for first-time buyers. Often, lumber companies selling reclaimed wood use varied terms to describe their reclaimed or salvaged lumber as marketing strategies, to disguise low-quality product, as e-advertising tactics, or simply to be as accurate as possible. This blog post makes sense of many of these terms, helping you navigate the reclaimed wood market and buy what you actually want.

To begin, let's re-cap the reasons most people purchase reclaimed wood:
It is often (but not always) produced in smaller quantities than fresh-sawn lumber: this can mean the attention to quality is higher in the manufacturing process and greater customization of finished products is possible.

It is recycled: fresh-cut lumber is not used, meaning trees can remain in the forest as a carbon sink to fight climate change, and demolition lumber is saved from the landfill.

It looks great: most people love the character and history that is inherent in reclaimed wood. The knots, nail holes, and surface checks draw the eye and tell a story.
If these are the reasons you're buying reclaimed wood, you need to make sure your lumber is actually reclaimed. Don't be misled by 'distressed wood' that is actually fresh-sawn, 'salvaged wood' that is clear-cut tropical lumber, or 'recovered wood' that's just a 2x4 that someone left outside all winter.

Reclaimed Wood refers to wood that has been reclaimed from a previous use - generally as a building material. This is wood that has been removed from a building or other application (water tank, stadium, ship, etc.) and is being given a second life as a new product. Lumber that is sawn from felled trees - regardless of how or why they were felled - is NOT reclaimed.

Antique Wood simply means old wood. Antique wood is generally reclaimed, because most wood decomposes in its natural environment but can be preserved in buildings. Some sneaky marketers call fresh-cut lumber from old trees (or wood that sat outside for a long time) antique wood. If you're skeptical about whether or not your antique lumber is actually reclaimed, just ask!

Salvaged Wood is a dangerous term. In recent years, salvaged wood has come to describe lumber that is fresh-cut but could be destined for other uses such as wood chips or firewood. If you are buying salvaged wood, there is no guarantee that your lumber is reclaimed. Often times, Urban Salvage is the term used to describe lumber from trees cut down in urban areas. Although there is nothing wrong with this lumber (and it can be beautiful), it is not reclaimed wood and is not being recycled. This lumber comes from a tree that was cut down and sawn up, period. Salvaged lumber is also often used to describe lumber that was dead standing or fallen timber before it was sawn. This includes beetle-killed lumber, fire-killed lumber, or naturally-felled trees. Longleaf Lumber sells salvaged old growth redwood lumber that comes from trees which fell in the forest from natural causes or from the unclaimed leftover cuts and stumps that were part of past logging operations. This wood is not recycled and would be a valuable part of the forest ecosystem if it were to remain and serve as fuel for fires or biomaterial for decomposition. If you are concerned about the provenance of your 'salvaged lumber', ask where it was sourced.

Recycled Wood, Repurposed Wood, or Upcycled Wood is used to describe wood that has been re-used from a previous application. These terms generally mean the wood is reclaimed but they are sometimes used to describe lumber such as pallet wood or mattress wood, which was not used in a building materials application. That being said, if you are guaranteed recycled or upcycled wood, it does mean that you are not purchasing lumber from fresh-cut trees.

River Reclaimed, Lake Salvaged, or River Salvaged lumber is an interesting category. This wood is pulled from lakes or rivers, where it has often been lost during log driving operations. Because of the lack of oxygen in the aquatic environment, the wood is generally well preserved, although it takes a very long time to dry and become stable. Longleaf Lumber sells live oak lumber salvaged from Charlestown Navy Yard in Boston, where it had been stored in holding ponds for naval use. Although this lumber was already hewn to shape, it was never used in a building or ship, so we are reluctant to call it reclaimed. Although river reclaimed logs do play a role in the aquatic ecosystem, buying wood sawn from them is a much more environmentally-friendly source of lumber than fresh-felled trees.

Distressed Wood is a sometimes misleading term. Ask if your distressed wood is reclaimed or recycled. Some distressed wood is freshly-cut and -sawn lumber that has been run through 'distressing' machinery, left outside to weather, or simply beaten with chains and hammers. If you're looking for a recycled product, you want wood that is actually reclaimed. Ask if your distressed wood is from a reclaimed source or if it is sawn from trees fresh-felled in the forest.

Barn Wood or Barn Board are terms that are meant to refer to wood that has been reclaimed specifically from agricultural structures. Oftentimes companies will market wood reclaimed from industrial applications - or even non-reclaimed wood - as 'barn wood'. If you're looking for wood that actually comes from a barn, be sure to ask if the lumber was salvaged from an agricultural building.

Barn Siding is a word that describes wood reclaimed from the outside of barns. This wood has generally stood up to decades of weather, giving it a very unique patina. Some companies fresh-cut wood and expose it to the weather on the ground or nailed to poles, thereby imitating the natural weathering process on an agricultural building. Although this faux-reclaimed lumber is somewhat rare on the market, it does exist and it is NOT reclaimed.

Weathered Wood simply describes wood that has been exposed to the weather, producing a distinct surface texture and color. This wood is NOT necessarily reclaimed, as fresh-cut lumber that is left outside for a year or two will develop a subtle weathered surface. If you're purchasing a product called 'weathered wood', ask if it is reclaimed.

Wide Plank is another word that is often tossed in amongst reclaimed wood monikers. Wide plank has no specific meaning (there is no threshold for what constitutes a "wide plank") and is generally used to describe solid plank wood flooring that is wider than five or six inches. Wide plank is not an indicator of the quality of wood you are purchasing.

Recovered Wood is an extremely ambiguous term. This could be lumber that was recovered from the forest after it was cut down. It could be recovered from a 19th-century mill. There's just no way of knowing without probing further. If someone is selling you 'recovered wood', just cut straight to the chase and ask them where it came from.

All in all, it is important to understand where your wood is coming from and be sure that you feel comfortable with its sourcing. Trees are a valuable and renewable resource but it is partially the consumer's responsibility to hold companies accountable for how they manage our shared supply of timber. Trees produce oxygen, filter the air we breath and water we drink, store carbon to reduce the rate of climate change, and provide important habitats that support our planet's rapidly-diminishing biodiversity. Reducing the demand for fresh-cut lumber is an important way we can better steward this resource, and purchasing reclaimed lumber is one way to reduce this demand.