South Hadley, MA ~ 1873
Home to the first navigable commercial canal and revolutionary inclined plane lift in the Northeast United States, the abandoned and slowly crumbling Texon mill building site was a notorious eyesore along the banks of the Connecticut river.
This 100,000 square foot mill building was constructed on the site of the South Hadley Canal by manufacturer Joseph Carew's Carew Manufacturing Co. in 1873, replacing a previous wooden mill that burned in the same year.  With Heart Pine framing, brick walls, and marble facings and trimmings, the structure was a stately presence on the Connecticut River.  After the Carew company phased out production in the 1940s, the mill was purchased by fiber-impregnated materials manufacturer Texon in 1948, which used the five-story building to make shoe insoles, luggage materials, and auto parts.  In 1988, the mill was sold to Holyoke Power, and then to Holyoke Gas & Electric as a part of their purchase of the Holyoke Dam.
The structure's age and relevance to Connecticut River Valley industrial revolution history gave it significant historical value,
bogging down efforts by Holyoke Gas & Electric to either develop the property into housing or demolish the structure.
In 2012, after years of boardroom wrangling, an agreement was reached amongst the Massachusetts Historical Society, the town of South Hadley, The Army Corps of Engineers, and Holyoke Gas & Electric.  The building was demolished and is to be replaced by Texon Mill Park, which is to include granite cornerstones to mark the site of the historic mill building.  The park will also feature Connecticut River viewing platforms and a reconstruction of portions of the original canal.
Longleaf Lumber salvaged Heart Pine beams and a small quantity of maple flooring from the mill building, which will be carefully de-nailed, kiln-dried, and re-milled into Factory Maple flooring.
Below are our pictures of the demolition and salvage process.
Photographs of the Texon building as seen from the Connecticut River.
Photographs of the structure during demolition and salvage.
Looking upriver from the main stairwell.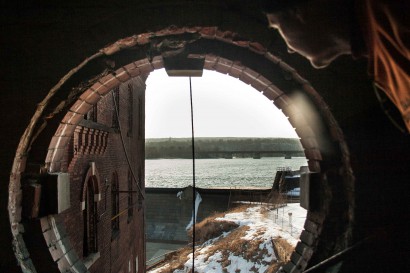 Demolition and salvage nearly complete.
Reclaimed Heart Pine beams after demolition.