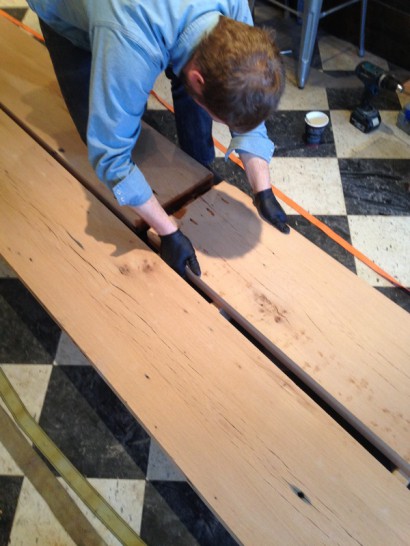 South Berwick's own Thistle Pig restaurant didn't have to travel far for their reclaimed wood bar top.
Located a hop and skip down the road from Longleaf's Maine mill, South Berwick's Thistle Pig restaurant is set to be the area's newest hyper-local gem.  Co-founding husband and wife team Jen Fecteau and Ben Hasty are putting the final touches on their restaurant/bar, which plans to serve up local fare with a particular emphasis on foods from Breezy Hill Farm, the family land that's been worked by generations of Hastys for over 300 years.
Hasty and Fecteau's desire to use locally-sourced products extends beyond food and into building materials.  They came to Longleaf Lumber for a reclaimed white oak bar top, which we milled down the road in Berwick and they joined on-site in their new space.  We've included some photos here from the Thistle Pig's blog of the installation, and one gem of the restaurant space in a former incarnation.
When you find yourself in the area, be sure to stop by the Thistle Pig and grab some Breezy Hill fare on their gorgeous new (old) reclaimed wood bar top.
Preparing to join the bar top pieces:
Glue is applied:
Sometimes you need a little extra push:
The bar top installed:
Once Flynn's Market, now Thistle Pig restaurant.