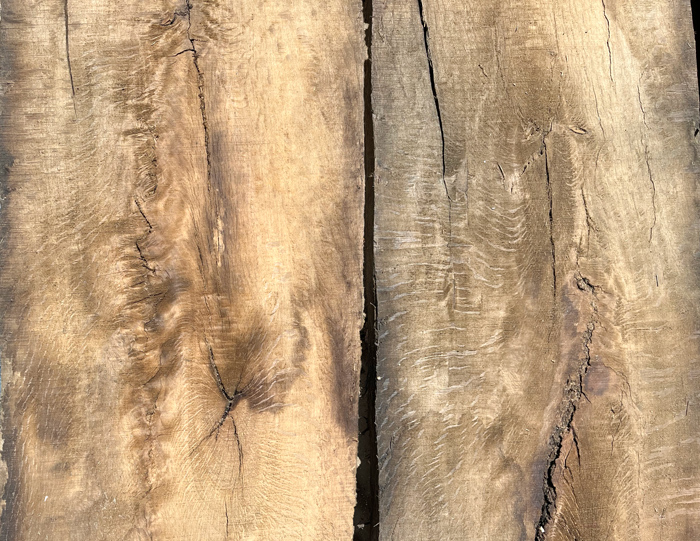 Seventeen years ago, Longleaf procured a large number of salvaged Live Oak ship frame timbers which were buried in a quay at the Charlestown Navy Yard. Believed to have been replacement pieces for the Constitution class frigates built in the late 1790s*, but never used, the timbers were basically landfill until discovered during a construction project.

Most of the timbers have been used full size for landscaping projects (Cambridge Common, Walden Pond, UMass Boston, etc.), but fifteen years ago Longleaf cut up thousands of feet of them into boards with the hope of making flooring. Turns out Live Oak is pretty unstable and moves around too much to meet most people's flooring expectations. We have been sitting on this lot of boards ever since.


The densest wood indigenous to North America at 8 lbs per board foot, Live Oak is difficult to work with but remarkably beautiful. The grain has no clear ring delineation and grows in a woven three dimensional manner which imbues much of the sawn boards with a quilted, ribbon type figure. Medullary rays impart a flaky figure much like White Oak. While not appropriate for fine joinery, Live Oak is great for decorative applications such as rustic wall paneling, primitive furniture, veneer lay-ups and, of course, sculpture.
Not straight-lined, many of the planks show the gentle arcs which described the shape of the ship's hulls. The boards have been air drying on sticks outside for fifteen years. There is a high percentage of checking/cracking in the material and therefore a large amount of waste. Yield will depend entirely on how much defect is allowed in the finished product. The price reflects this waste factor.

Roughsawn Board Dimensions:
Thickness: +/- 5/4″
Widths: 5″ to 15″
Lengths: 3′ to 12′ (most at approximately 8′)

Quantity Available: The lot is +/- 1,200 board feet.

Price: The unbelievable, once in three century,
price is $1,500.00 (as is). Must take the whole lot. FOB Berwick, Maine.


* We have no actual documented proof of this!